Powered Micro Spot MSPA
THIS PRODUCT HAS BEEN DISCONTINUED AND REPLACED BY THE MSPA5. The Powered Micro Spot, like the original Powered Hot Spot, delivers high power,...

THIS PRODUCT HAS BEEN DISCONTINUED AND REPLACED BY THE MSPA5.
The Powered Micro Spot, like the original Powered Hot Spot, delivers high power, but in a more compact package that's smaller than a football.
Designed to be used anywhere sound reinforcement is needed, the Powered Micro Spot's universal power supply will accept AC sources ranging from 90 volts to 250 volts, 50 or 60 Hz.
Weighing only 4.82 pounds, the Powered Micro Spot delivers a clean 30 watts of power to its internal 4.5" full range speaker and can reach SPL levels of 99 dB. XLR and 1/4" inputs respectively accept microphone and line level signals. The Powered Micro Spot also features a 2-band equalizer and built-in compressor/limiter circuitry that controls the amplifier's gain, acting like a compressor on transient signals and a "brick wall" limiter on signals that continuously exceed a predetermined limit. This results in an apparent 6 dB increase in SPL without distortion. That's twice the sound pressure!
With the included mounting hardware, the Powered Micro Spot can be permanently mounted to a wall or ceiling, or conveniently mounted atop a microphone stand for portable use.
The unit's case is constructed of tough fire retardant styrene with a black cast aluminum faceplate.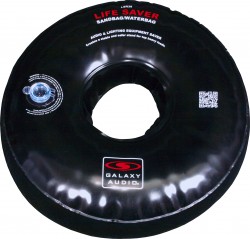 The Galaxy Audio Life Saver is a unique equipment stand stabilizer that may be used in a variety of ways in Audio, Video, Lighting, and Theatre applications. Any mic or speaker stand may become unstable because of a top-heavy center of gravity, a boom extended laterally, or simply because the stand is set on an uneven surface. When filled with Sand or Water the Life Saver provides enough weight at the bottom to stabilize most mic and speaker stand applications. The doughnut shape of the LSR38 ensures that the Life Saver will stay on the base of the stand, even if the stand is pushed or bumped. The LSR38 weighs 38lbs. when filled with sand, and 22lbs. when filled with water. The durable reinforced vinyl material and easy-fill water tight design allow the user to transport the Life Saver empty, and fill with water on location. The LSR38 dimensions are: 16" O.D. x 6" I.D. x 3" Thick. The Life Saver will pay for itself the first time it prevents your expensive mics or speakers from hitting the floor. (Sand/water not included)
May be filled with sand or water
Protects mics and speakers from damage
Helps keep microphone, speaker and lighting stands upright
Sand/Water not included
Unique doughnut shape keeps bag on the stand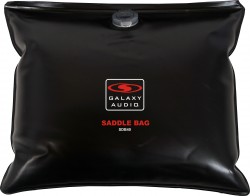 The Saddle Bag Sand/Water Bag is designed to help improve the stability of speaker, keyboard, mic, lighting stands and many other types of stands. Also great as a boom counterweight. The Saddle Bag is constructed of a durable reinforced vinyl. When filled with sand (not included) the Saddle Bag weighs approximately 45lbs and 28lbs when filled with water. The filled Saddle Bag will help stabilize a top- heavy stand.
Works great on keyboard, speaker, mic, lighting, and many other types of stands.
Great for: bands, churches, theater, broadcast, recording & video production
Dual wing design
Nylon handle with clip
May be filled with sand or water
Helps protect equipment from damage and keeps stands upright and stable
Sand can be acquired at most home improvement centers, concrete supply warehouses, landscaping supply houses or a sand blasting supply company. Tip: Coarse dry commercial sand works best. Use a funnel for faster fills. Equipped with large 1-inch inner diameter plugs for ease of filling.
WARNING
1. We are not responsible for any damage caused by the use or misuse of the bag.
2. The water filled bag should not be used near electrical wiring.
3. Only dry sand should be used in a dry bag.
4. Water should not be left in the bag for long periods.
5. Do not subject the bag to freezing weather when filled with water.
6. The bag is not intended as a flotation device.
Powered Micro Spot MSPA Specifications
Amplifier - Rated Power
30 watts
Amplifier - Equalization
Two band center detent
Lo: ± 12 dB shelving at 200 Hz
Hi: ± 12 dB shelving at 10 kHz
Amplifier - Frequency response
150 Hz–15 kHz
Amplifier - Total Harmonic Distortion
<0.5% @ 4 ohms
Amplifier - Input connection
Balanced XLR and ¼" parallel inputs with +15 VDC phantom power
Amplifier - Indicator LED
POWER
Amplifier - Power Requirements
90-250 VAC, 50/60 Hz
Amplifier - Safeguards
Short circuit current limiting. Short circuit foldback limiting. Thermal short circuit protection. Dynamic load line cooling. Turn on/turn off transient suppression.
Speaker
One 4.5" Full range
Speaker - Power handling capacity
30 watts
Speaker - Sensitivity (1 Watt @ 1 meter)
84 dB (1 kHz octave band)
Speaker - Frequency response
100 Hz–15 kHz
Speaker - Maximum SPL @ clip (1 Watt @ 1 meter)
99 dB
Speaker - *SPLOWT
21
Speaker - Enclosure Materials
Fire retardant styrene with black cast aluminum grille
Speaker - Color
Black
Speaker - Dimensions
7" x 6" x 5" (178 mm x 152 mm x 127 mm)
Speaker - Net weight
4.82 lbs. (2.19 kg)
Speaker - Shipping weight
7.48 lbs. (3.4 kg)
This product has not been rated yet.
Reviews
This item has not been rated yet.