CORE 12 2-way CR12
The CORE12 is an unpowered 2-way speaker available in white or black textured wood cabinets with an integrated handle on the rear of the cabinet....
This product must be purchased through our retailer network
Choose a Retailer
The CORE12 is an unpowered 2-way speaker available in white or black textured wood cabinets with an integrated handle on the rear of the cabinet. With a sleek cabinet design and robust 16 gauge grill, the CORE12 will be an excellent speaker in either an installed church setting or in mobile DJ use. The trapezoidal design and removable rubber feet allow the cabinet to be configured to lay on any side for the optimal listening angle. The CORE12's two-way system is rated at 400W at 8 Ohm and comprised of a 12" woofer and a 1" high-frequency compression driver.
The CORE12 uses a constant directivity asymmetrical rotatable horn and passive crossover for exceptional high-end range and convergence. This provides extremely flexible coverage patterns, giving width when needed, and narrowing so that the amount of ambient sound is reduced. The horn pattern is 100 degrees/50 degrees horizontal by 55 degrees vertical, the horn can be rotated in 90º increments so the speaker can be placed in multiple positions.
The CORE12 features a pole mount socket on the bottom of the cabinet that fits a standard 1-3/8" speaker stand as well as (20) M8 thread suspension points for hanging the speakers at any angle or position from a wall or ceiling. The back input panels of the COREspeakers feature two twist-lock plugs and a two-terminal barrier strip. The two input jacks are wired in parallel to provide a convenient way to daisy chain multiple speakers to a single amplifier channel.
Integrated Pole Mount (black cabinets only)
Integrated handle on the rear of the speaker
2 Twist-Lock parallel input jacks plus barrier terminal input.
Paintable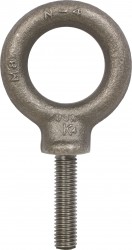 Fly Mount Hardware for use with Core 12 & Core 15 Speakers. Sold in a pack of 3.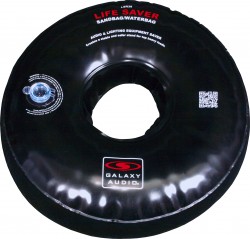 The Galaxy Audio Life Saver is a unique equipment stand stabilizer that may be used in a variety of ways in Audio, Video, Lighting, and Theatre applications. Any mic or speaker stand may become unstable because of a top-heavy center of gravity, a boom extended laterally, or simply because the stand is set on an uneven surface. When filled with Sand or Water the Life Saver provides enough weight at the bottom to stabilize most mic and speaker stand applications. The doughnut shape of the LSR38 ensures that the Life Saver will stay on the base of the stand, even if the stand is pushed or bumped. The LSR38 weighs 38lbs. when filled with sand, and 22lbs. when filled with water. The durable reinforced vinyl material and easy-fill water tight design allow the user to transport the Life Saver empty, and fill with water on location. The LSR38 dimensions are: 16" O.D. x 6" I.D. x 3" Thick. The Life Saver will pay for itself the first time it prevents your expensive mics or speakers from hitting the floor. (Sand/water not included)
May be filled with sand or water
Protects mics and speakers from damage
Helps keep microphone, speaker and lighting stands upright
Sand/Water not included
Unique doughnut shape keeps bag on the stand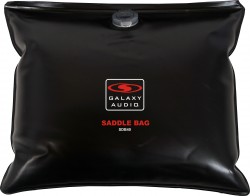 The Saddle Bag Sand/Water Bag is designed to help improve the stability of speaker, keyboard, mic, lighting stands and many other types of stands. Also great as a boom counterweight. The Saddle Bag is constructed of a durable reinforced vinyl. When filled with sand (not included) the Saddle Bag weighs approximately 45lbs and 28lbs when filled with water. The filled Saddle Bag will help stabilize a top- heavy stand.
Works great on keyboard, speaker, mic, lighting, and many other types of stands.
Great for: bands, churches, theater, broadcast, recording & video production
Dual wing design
Nylon handle with clip
May be filled with sand or water
Helps protect equipment from damage and keeps stands upright and stable
Sand can be acquired at most home improvement centers, concrete supply warehouses, landscaping supply houses or a sand blasting supply company. Tip: Coarse dry commercial sand works best. Use a funnel for faster fills. Equipped with large 1-inch inner diameter plugs for ease of filling.
WARNING
1. We are not responsible for any damage caused by the use or misuse of the bag.
2. The water filled bag should not be used near electrical wiring.
3. Only dry sand should be used in a dry bag.
4. Water should not be left in the bag for long periods.
5. Do not subject the bag to freezing weather when filled with water.
6. The bag is not intended as a flotation device.
CORE 12 2-way CR12 Specifications
| | |
| --- | --- |
| Frequency Response | 62Hz - 18kHz +/- 3dB |
| Power/Peak | 400W Watts RMS / 1200 Watts |
| Impedance | 8 ohms |
| Sensitivity | 92db, 1 W @ 1 m (1kHz) |
| Woofer Diameter | 12", 50 oz Ferrite magnate with 2.36" (60 mm) Voice Coil |
| Horn Type | Constant Directivity, Asymmetrical |
| Horn Pattern | 100°/50° x 55° (horizontal x vertical) |
| Voice Coil | 1.75" (44.45 mm) Voice Coil with 1" (25.4 mm) Throat |
| Input Connectors | Two 1/4" / Twist-Lock Jack, plus Barrier Terminal Input |
| Speaker Wiring | Woofer in Polarity, Horn out of Polarity |
| Stand Mountable/Suspension Points | 1.4" Stand Cup/20 M8 Size Threaded Suspension Points |
| Cabinet Material | 15mm MDF |
| Grill | 16 Gauge Steel Grill |
| Cabinet Color | Black (CR12) or White (CR12W) |
| Dimensions | 22.83" x 14.01" x 15.74" (580 x 356 x 400 mm)(HxWxD) |
| Weight | 43.85 lbs (19.9 kg) |
Videos
CR12 Introduction Video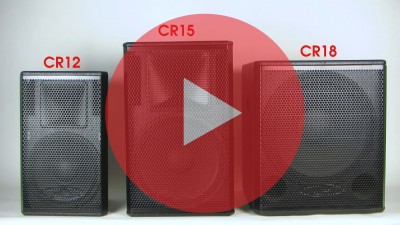 This product has not been rated yet.
Reviews
This item has not been rated yet.