EVO True Wireless Headset Mic Only
Add Additional Headset Mics for Multiple Users. (Headset Mic Only) Trying to teach a fitness class can lead to confusion if you don't have...
Add Additional Headset Mics for Multiple Users. (Headset Mic Only)
Trying to teach a fitness class can lead to confusion if you don't have a quality microphone and speaker system to project instructions clearly. As a fitness instructor, hands-free full body movement is essential for a professional fitness presentation. Most headset mics require a body pack transmitter, wired directly to your headset microphone, which can be awkward and difficult to place appropriately on workout clothing. Additionally, body pack cables often interfere with movement during your workout instruction, causing distraction and frustration.
The EVO True Wireless headset mic solves all these problems and minimizes the equipment being worn. The EVO is a 16 channel UHF frequency dual ear headset mic that incorporates both headband and wireless transmitter into one compact, self-contained ergonomic design. The rechargeable mic is both splash and sweat resistant. The EVO offers a patented design that allows freedom of movement, eliminating both cable and body pack by relocating the transmitter behind the ear on the headset, for easy, carefree fitness instruction that never interferes with floor exercises. The EVO is lightweight, comfortable, and stays in place even during the most rigorous exercise routine.
The EVO Wireless Headset features a noise canceling, condenser mic element, enabling exercise instructors to project their voice clearly while reducing external ambient noise or music interference. The EVO Wireless headset mic features a rechargeable battery (up to 4+ hours battery life), power supply included for recharging. The EVO headset is compatible with the SP-25R Scan16 true diversity receiver (one or two EVO headset options), the GXE Group.X 10" fitness speaker PA system, and GXE-LITE Group.X Lite 5.25" full range portable speaker PA system. Take your fitness, gym, yoga, aerobics, or water aerobics instruction class to the next level with the EVO!
Special Projects Audio by Galaxy Audio.
Patented Headset Design Integrates the Transmitter Comfortably Behind the Ear
300' Range
16 Selectable UHF Frequencies
No Body Pack or Annoying Wires
Splash Resistant/Sweat Resistant
Noise Cancelling Element Helps Reduce Feedback
6" Mic Boom with 4.5" Flexible Gooseneck
Clear, Articulate Sound Quality
Comfortable Dual Ear Headband Design.
Operates with the SP-25R Scan16 Receiver or with Special Projects Audio Portables
4+ Hour Battery Life & Rechargeable
Lightweight Design 1.6 oz. (45 g)
Ideal for Fitness Instructors, Gym Teachers, Aerobics, Yoga, Referee, and Dance.
EVO True Wireless Headset Mic Only Specifications
| | |
| --- | --- |
| Style | Hooks over both ears with comfortable headband design |
| Boom Length | 6" Total – 4.5" Flexible Gooseneck |
| Mic Element | Noise canceling condenser, Bi-directional Condenser, IP-67 moisture and dust rated |
| Band | UHF |
| Frequency Range | 540.125 – 569.525 MHz |
| Frequency Response | 80Hz-12kHz |
| Operating Range | Up to 300' |
| Battery | Lithium-Polymer Rechargeable with 4+ hours talk time, depending on use |
| Available Channels | 16, user selectable |
| Input | 3.5mm Barrel Connector for Charging. Center +, Sleeve – |
| LED Indicator | Power On – Blinking Red / Charging – Solid Green |
| RF Power Output | 7.5 mW |
| Weight | 1.6 oz. (45 g) |
Videos
EVO YouTube Video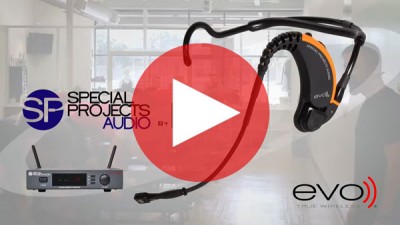 This product has not been rated yet.
Reviews
This item has not been rated yet.