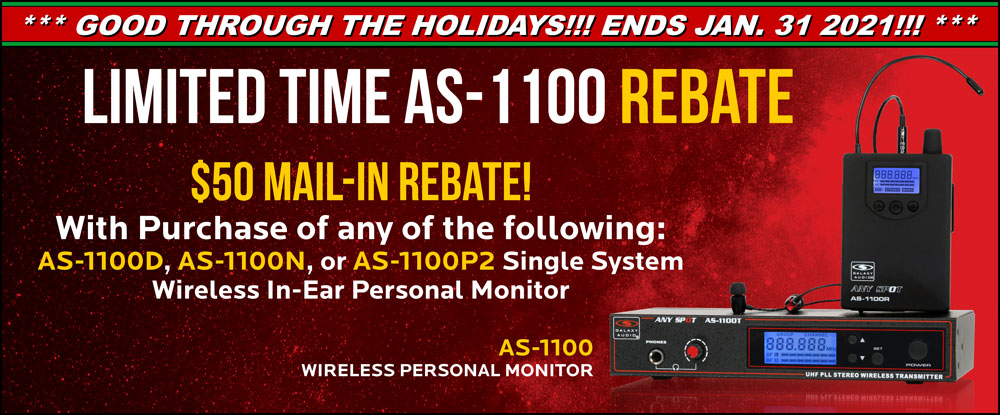 Purchase an AS-1100 Wireless Personal Monitor Single System (AS-1100D, AS-1100N, or AS-1100P2) between 12/01/20 and 1/31/21 and receive a $50 Rebate directly from Galaxy Audio. Request must be postmarked on or before 2/28/2021.
The AS-1100 is an AFFORDABLE HOT SELLER! Rebate eligible only while supplies last!
Mail-in Rebate Form Downloads:
Media Banners for Download
Terms and Conditions
Offer valid on purchases of specified product(s) only. Single receiver systems only. Band Pack or multiple receiver systems do not qualify. Submit this form completely filled out with a copy of dated sales receipt and original UPC label from package. Photocopies of UPC will not be accepted. Incomplete forms will be denied. Your request must be postmarked prior to deadline. Manufacturer is not responsible for lost or misdirected mail. Promotion value will not exceed purchase price. This offer cannot be combined with any offer on the same product. Requests from PO Boxes not accepted. Requests with invalid or undeliverable mailing address will be denied. Offer limited to end-users only. This Promotion valid in US only. Keep copies of all materials submitted: originals become prosecution under mail fraud statutes (Title 18, USC Sections 1341 &1342). This offer is no longer valid if not fully redeemed within 6 months from the valid purchase date. Promotions will be shipped in 6-8 weeks. If you have not received your Promotion within 10 weeks, please call 1-800-369-7768.