Micro Spot w/ Volume Control MSVC
THIS PRODUCT HAS BEEN DISCONTINUED AND REPLACED BY THE MS5. The Micro Spot VC (volume control) is based on the popular Galaxy Audio...
THIS PRODUCT HAS BEEN DISCONTINUED AND REPLACED BY THE MS5.
The Micro Spot VC (volume control) is based on the popular Galaxy Audio Hot Spot, the original personal monitor. The Micro Spot VC comes standard with a volume control located on the front of the unit that allows the user to independently adjust their own volume without affecting the other monitors. A stand mount bracket allows it to be mounted to any microphone stand. The Micro Spot VC features the proprietary Galaxy Audio NEOLITE neodymium 5-inch driver with a Ferrofluid cooled voice coil that reduces both power compression and distortion. The Micro Spot VC, with a bandwidth focused at the vocal frequency range of 300Hz-15kHz, is perfect for all speech applications. The compact size of the Micro Spot VC makes it a great solution for eliminating stage clutter and the task of lugging bulky floor monitors in and out of the gig. Pound for pound, inch for inch, the Micro Spot VC ranks among the world's loudest and clearest loudspeakers. Ruggedly built to Galaxy Audio's exacting standards, the Micro Spot VC is unsurpassed in power handling and sonic fidelity among loudspeakers of similar size and weight.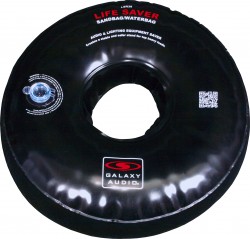 The Galaxy Audio Life Saver is a unique equipment stand stabilizer that may be used in a variety of ways in Audio, Video, Lighting, and Theatre applications. Any mic or speaker stand may become unstable because of a top-heavy center of gravity, a boom extended laterally, or simply because the stand is set on an uneven surface. When filled with Sand or Water the Life Saver provides enough weight at the bottom to stabilize most mic and speaker stand applications. The doughnut shape of the LSR38 ensures that the Life Saver will stay on the base of the stand, even if the stand is pushed or bumped. The LSR38 weighs 38lbs. when filled with sand, and 22lbs. when filled with water. The durable reinforced vinyl material and easy-fill water tight design allow the user to transport the Life Saver empty, and fill with water on location. The LSR38 dimensions are: 16" O.D. x 6" I.D. x 3" Thick. The Life Saver will pay for itself the first time it prevents your expensive mics or speakers from hitting the floor. (Sand/water not included)
May be filled with sand or water
Protects mics and speakers from damage
Helps keep microphone, speaker and lighting stands upright
Sand/Water not included
Unique doughnut shape keeps bag on the stand
Micro Spot w/ Volume Control MSVC Specifications
| | |
| --- | --- |
| Frequency response | 300 Hz –15 kHz |
| Power handling capacity | 100 Watts |
| Sensitivity | (1 watt @ 1Meter) 92 dB (1 kHz octave band) |
| Maximum SPL | (100 watts @ .5 meter): 117 dB |
| Speaker complement | One NEOLITE Neodymium, ferro fluid cooled 5 -inch drivers .86 lbs (.39 kg) |
| Nominal impedance | 16 ohms |
| Input connection | Two ¼ -inch jacks wired in parallel |
| Enclosure Materials | High impact ABS plastic |
| Color | Black or white case with cloth covered ABS grille |
| Included | SA- 1 spun aluminum stand adaptor and mounting bracket included |
| Dimensions | 7-inches x 6-inches x 5.125-inches (178 mm x 152 mm x 130 mm) |
| Volume control | 18 dB range; 7 positions at 3 dB each |
| Net weight | 2.7 lbs. (1.23 kg) |
| Shipping weight | 3.2 lbs. (1.2 kg) |
This product has not been rated yet.
Reviews
This item has not been rated yet.