AS-1800 Up to 1280 Selectable Frequency Stereo Wireless Personal In-Ear Monitor with Mixed Mono
The Galaxy Audio AS-1800 is designed with features for the professional. This wireless personal in-ear monitor system comes in options...
This product must be purchased through our retailer network
Choose a Retailer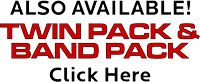 The Galaxy Audio AS-1800 is designed with features for the professional. This wireless personal in-ear monitor system comes in options of a Single system, Twin Pack system, and Band Pack system. The body pack receiver is set up for a king. With 150mW's of output to the ear buds, the AS-1800R is sure to be plenty loud for any environment. The receiver has a squelch adjustment, stereo/mono switch, LCD display, button lock, and a Magnesium Alloy Construction. Galaxy Audio's comfort EB4 premium ear buds feature titanium drivers, extended bass response, aluminum alloy construction, and now come standard with all WPM models.
The Twin Pack and Band Pack Systems makes it easy for any duo or band to Get Personal. The Twin Pack system includes two receivers and one transmitter. The Band Pack system includes four receivers and one transmitter. They are designed to get the duo or whole band wireless in one package. The Galaxy Audio AS-1800-2 and AS-1800-4 will allow a duo or band to send one stereo mix to 2 or 4 individuals. Additional transmitters may be purchased at a later date to add mixes.
An unlimited number of receivers may be added at any time.
See "Configurations" for ear bud upgrade system options.
Featuring Mixed Mono Mode
Backlit LCD (Displays Channel Number, Frequency, Name, Battery Level of Receiver, L/R AF Input, Stereo/Mono and Lock)
UHF Phase Locked Loop
Stereo or Mono Transmission
Multiple Receivers can be used with 1 Transmitter
Naming Function
30/100 mW Selectable Transmitter Output
Monitor Output
Single/Dual Rack Mount Kit Included
EB4 Ear Buds Included
300' Range
The Mixed Mono feature allows performers to adjust the balance of the Left and Right audio signals sent from the transmitter right on the body pack. With Mixed Mono:
The performers can have their vocals in Input 1 and the band mix in Input 2 and adjust the volume of each independently to create their own personal mix, or
You can send two different monitor mixes from the board so each performer can decide which mix they want to hear on their belt pack.
AS-1800T Transmitter
Easy to Read LCD
2-1/4" Line Outputs (unbalanced)
Volume Control
Two XLR/1/4" Combo Inputs
Naming Function
30/100 mW Selectable Transmitter Output
Monitor Output
AS-1800R Receiver
True Diversity
Magnesium Alloy Construction
45 Hz -18 kHz
Mixed Mono Mode
Frequency Display
Backlit LCD
Volume Control
Battery Level Indicator
150 mW Earphone Output
Button Lock
Squelch Adjustment
Volume Knob
Auto Mute
Stereo/Mono Switch
Dimensions: 4.25" x 2.59" x .86" (108 x 66 x 22 mm)(HxWxD)
*Varies by frequency code
---
"I absolutely LOVE my Galaxy Audio in-ear monitoring system! It is loud, crystal clear, and I couldn't be happier with it...thanks, Galaxy"
-Micky Dolenz
"In the past, I've tried out in-ear monitors made by other companies and didn't like using them at all. But my Galaxy in-ear monitor system is awesome...what a great experience it is using it every show! I can hear my vocals, drums, keys, guitars, and bass all crystal clear and with no distortion. My EB10 ear buds are comfortable, they fit great, and I really appreciated how they came stock with a variety of rubber tips to properly fit ear canals of all sizes. In live music situations, I can hear everything so clear now...I love using this system!! Thanks, Galaxy!"
-Carmine Appice
"For years I've had to use big, loud monitors live. Now with my Galaxy Audio in-ear AS-1800 system, I can get the same power, clarity, and punch...all without having to use monitors that take up half of my drum riser. This system ROCKS!"
-Vinny Appice
"I'm here today to say that I'm loving my new Galaxy Audio AS-1800 Wireless Personal Monitor Band Pack System. I'm using for the time being to rehearse in my studio! And I can't wait to take this on the road!

It's Built like a tank and sounds fantastic! Check it out!"
-Mike Kerr
AS-1800 Up to 1280 Selectable Frequency Stereo Wireless Personal In-Ear Monitor with Mixed Mono Specifications
AS-1800 SYSTEM




Band
UHF
Frequency Range
B2 538~554 MHz (640 frequencies)
B3 554~570 MHz (640 frequencies)
P3 485~517 MHz (1280 frequencies)
Frequencies
32 Channels / 640 Selectable Frequencies
Transmitter Output Level
30 mW or 100 mW
Operating Range
Under Typical Conditions 300' (92m)
Note: actual range depends on RF signal absorption, reflection, interference, and battery characteristics
Audio Frequency Response
+/-1dB 45Hz - 18kHz
Total Harmonic Distortion
< 0.7% @ 1kHz
Signal to Noise
>105dB
Maximum Deviation Range
+/-68kHz
Dynamic Range
>90dB A-weighted
Operating Temperature
Range 14ºF to 122ºF (-10º C to 50º C)
Note: battery characteristics may limit this range


AS-1800T TRANSMITTER


Main Frame Size
EIA STANDARD 1/2 U
Modulation Mode
FM Stereo Modulation
RF Output
30 mW or 100 mW
Max Audio Input Level
+22dBV
Gain Adjustment Range
6dB
Audio Input
Line Level X 2, XLR / 1/4" Combo Jack
XLR Input
Impedance balanced
Pin 1: Ground (cable shield)
Pin 2: Audio +
Pin 3: No Audio -
Audio Output
1/4" Unbalanced Jack
Dimensions
1.7" x 8.2" x 8.1" (44 x 209 X 206 mm)(HxWxD)
Weight
2.3 lbs 1.04 kg
Power Requirement
12-18 VDC @ 300 mA supplied by external power supply


AS-1800R Receiver


Audio Output Level
100 mW
Sensitivity
6dBμV, S/N>60dB at 25 deviation (mono)
Stereo Separation
45dB (at 1 kHz)
Output Connector
1/8" (3.5mm) Stereo Earphone Connector
Dimension
4.25" x 2.6" x 0.87" (108 X 66 X 22 mm)(HxWxD)
Weight
0.35 lbs (0.16kg)
Power Requirement
2 "AA" size alkaline or rechargeable batteries
Battery Life
About 7 hours (alkaline)
1 Customer Review
Average rating
(5.0/5)
Reviews
1 vote
100%
0%

Dave (Guest) on September 26, 2018 at 12:34 pm

Well worth looking into these So I have been researching IEM's for a while and I've looked at Sennheiser, Shure, and Audio-Technica but for some reason I always came back to looking at these. For a while they were only special order from my preferred supplier and were non-returnable. Well that scared the hell out of me because I could not find many reviews on them and I didn't want to risk wasting $$$... When they started to stock these I decided to take the chance and ordered it. Now mind you.. I had an off brand IEM system that I used and had already upgraded to Westone UM20 Pro Dual Driver ear buds so I can"t tell you what the ones that came with the unit sound like. To get started I basically used my X-32 and a multi-track recording as a virtual sound check to get my initial mix and I was blown away. It was like a concert in my head. The highs were crisp, the lows were warm, and the stereo separation was fantastic. I am a bassist in a band and really needed to have some low end so I can hear the kick and bass guitar. I've since used these live and I have not been disappointed, there has been no dropout issues or the dreaded zipper sound that sometimes plague in ear systems. One thing to note…the low power setting was fine for me. I felt that the high power was just to much as I could only set the volume at like 20%. On the low power setting I have the volume around 50% which gives me more control up or down. I don't have a high dollar IEM System so I cant do an A-B comparison, But I am totally happy with the sound of these. Would I recommend this system…yes If I had to do it over would I buy it again…yes.
FCC Consumer Alert for Wireless Microphones (U.S.)
Most users do not need a license to operate this wireless microphone system. Nevertheless, operating this microphone system without a license is subject to certain restrictions: the system may not cause harmful interference; it must operate at a low power level (not in excess of 50 milliwatts); and it has no protection from interference received from any other device. Purchasers should also be aware that the FCC is currently evaluating use of wireless microphone systems, and these rules are subject to change.
For more information, call the FCC at 1-888-CALL-FCC (TTY: 1-888-TELL-FCC) or visit the FCC's wireless microphone website at fcc.gov/cgb/wirelessmicrophones