MBA Mic Boom Adaptor
MIC BOOM ADAPTOR: mounts to the top of a PA6BT, PA6S, PA6SR or HS7. The MBA microphone boom and speaker mount adapter allows most microphone booms...
MIC BOOM ADAPTOR: mounts to the top of a PA6BT, PA6S, PA6SR or HS7. The MBA microphone boom and speaker mount adapter allows most microphone booms to be mounted on the top of the Hot Spot to eliminate the need for a stand for the Hot Spot and a stand for the microphone and boom. Works With 3/8" & 1/2" mic boom.
MBA Mic Boom Adaptor Specifications
| | |
| --- | --- |
| Dimensions (product) | 2.25" x 2" x 2" |
| Weight (product) | 2.63 oz |
This product has not been rated yet.
Reviews
This item has not been rated yet.
Suggested Products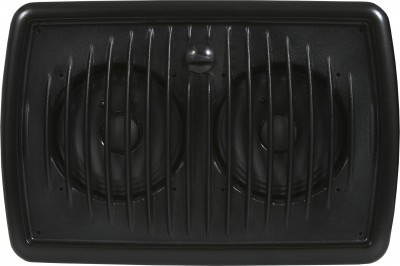 HS7 Hot Spot The Original Personal Monitor for Live Stage Near-Field Vocal Monitoring
The HOT SPOT monitor series has been the world's number one personal monitor since it's invention in 1970. There are two basic concepts that have led to the continued success of the HOT SPOT. The first concept was to bring the monitor closer to the performer. Second, was to create an unpowered PA monitor speaker that projects mid/high range frequencies; a frequency tailoring that Galaxy Audio calls, controlled bandwidth.
By bringing the monitor closer, the stage volume can be reduced, which, in turn, helps clean up the front of house mix. The Galaxy Audio Hot Spot HS7 has integrated volume control that allows the performer to have more control over his/her volume and to hear the other musicians on stage.
200 Watt Power Handling
Freq. Response 150Hz - 18kHz
Sensitivity: 94dB, 1 W @ 1 m (1 kHz octave band)
16 Ohm Cabinet with Two NEOLITE 5" Drivers
Input Connections: Two Twist-Lock / 1/4" Combo Jacks (wired in parallel)
7 Position Volume Control Full on to -18dB in 3dB steps
High Impact ABS Plastic
Integrated Handle
Mounting Points for Mic Boom Adapter and Bracket
Mounts to Most Mic Stands
MSA-1 Stand Adaptor Included
More Details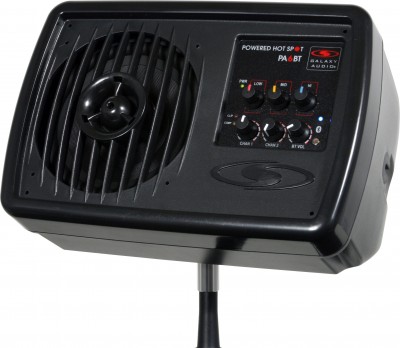 PA6BT Active Full Range Compact Personal Stage Monitor
The original mic-stand-mountable Powered Hot Spot Full Range Compact Personal Monitor with controls right at your fingertips.
Galaxy Audio's PA6BT Powered Hot Spot continues to be the industry standard in compact near-field live stage vocal monitoring. By minimizing the audio footprint and positioning the monitor in closer proximity to the performer, stage clutter and noise are drastically reduced for a more professional appearance and performance. The lightweight portability of Galaxy Audio compact monitors makes them ideal for gigging musicians and smaller stage venues.
The Powered HOT SPOT® PA6BT personal monitor focuses on live vocal reproduction. The need for a near-field vocal monitor became apparent as stage volumes became increasingly more difficult to control. The Powered HOT SPOT® PA6BT offers the perfect solution for many live stage and portable PA applications. The PA6BT can be mounted on a microphone stand, positioning the monitor in closer proximity to the user and reducing feedback on stage. The mic stand socket and included mic stand adapter on the PA6BT are designed for use with most mic stands. The integrated handle, mic boom mount, and built-in bracket mount points, combined with the optional MBA (mic boom adaptor), allow a gooseneck or microphone boom to be mounted on top of the unit for a clean monitor set-up.
Many performers purchase cumbersome 12" or 15" floor monitors, roll off the low end and crank up the volume in order to cut through the mix. The Full Range PA6BT's front facing EQ allows the performer to boost the mid-range, and minimal distance to the performer reduces stage volume and feedback. Galaxy Audio Compact Monitors feature a small, lightweight design, making it easier to transport and is the perfect choice for audio clarity and articulation in hostile stage environments.
The Original Near-Field Compact Personal Vocal Monitor is still the preferred choice by audio professionals worldwide.
Built-in Bluetooth® with Performer Facing Volume Control
170-Watt built-in amplifier
Freq. Response 80Hz - 18kHz
Max SPL 118dB
Two Way Speaker System:
6.5" Neodymium High Power Woofer
1.5" High-Efficiency Tweeter
Two Channels with Performer Facing Volume Controls:
CH.1 XLR / 1/4", CH.2 XLR / 1/4" & 1/8"
-20dB Pad Switches on each XLR Input
3 Band EQ Performer Facing Controls
Built-in Compressor/Limiter
Pass-Through on each XLR Input
Integrated Handle
Mounting Point for Mic Boom and Bracket
Mounts to Most Mic Stands
MSA-1 Stand Adaptor Included
The Details.
The PA6BT takes full advantage of recent improvements in speaker and amplifier technology, making it the lightest, most powerful, and cleanest sounding compact PA system we have ever offered. Features include Bluetooth® technology with its own volume control, a 155-watt NEOLITE 6.5" Woofer, and our highly efficient 1.5" 60-watt Tweeter. XLR pass-through on both channels allows independent control of mics without affecting the signal sent to the house PA. A –20dB Pad switch on each XLR input ensures that even the hottest signals will be accepted without overdriving the inputs. An additional 1/8" Line input on Channel 2 will accept stereo or mono signals from sources including tape or digital media players as well as line-level instruments.
The two-way speaker system gives the PA6BT Powered Personal Monitor a much wider frequency response than earlier models. This means that full-range music, such as keyboards or backing tracks, will come through with solid bass and crisp highs. The enhanced frequency response makes the PA6BT a great stand-alone PA system for small club gigs, lectures, and A/V presentations. A simple adjustment of the 3-band EQ can tailor the response for singers who love the time-honored accentuated midrange of the classic Hot Spot vocal monitor. The PA6BT gives you the versatility you expect for diverse stage set-ups.
The PA6BT comes equipped with a built-in high-tech Class D 170-watt amplifier, designed to handle the most demanding audio environments. This proven, robust design allows the PA6BT to function both as a stand-alone powered personal monitor system or a high-powered vocal monitor designed to cut through loud stage volumes. For larger gigs that require more coverage, simply patch from the Preamp Output to the main house PA, while using the PA6BT as your onstage monitor.
The PA6BT also features a built-in 18dB Compressor/Limiter circuit with Compressor and Clip LEDs. The Compressor acts to smooth out transient peaks in the audio signal, resulting in improved overall sound quality and perceived volume. The Limiter is designed to protect the woofer and tweeter from possible damage caused by amplifier distortion. The Clip LED indicates when a reduction in volume is recommended.
"After years of wishing for a small powered speaker for my small private gigs and rehearsals, my dreams have been answered a hundredfold. The Galaxy PA6S is simply the best small monitoring system that I have ever heard that is on the market today. I am able to play 6-7 note Full piano chords, organ and synth leads at sustained high levels without ANY distortion, yet maintaining a brilliant clarity that fills rooms much larger than I thought capable of. Nothing… I mean NOTHING, gets close! I am a Galaxy fan for Life!"

Rubén Valtierra
Keyboard Director w/Weird Al Yankovic since 1991
More Details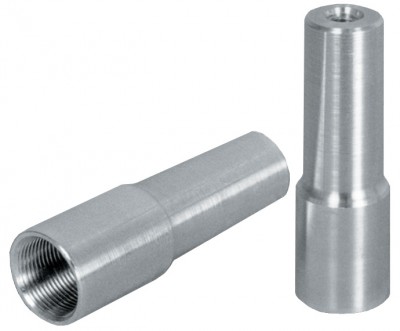 MSA-1
Spun aluminum mic stand adapter with 5/8" Female thread insert and 3/8" female threaded insert at opposite end.
The MSA-1 will mount a unit to any microphone stand. Works with all HOT SPOT MONITORS.
More Details