CLIP1800R
Wire Belt Clip for AS-1800R body pack receiver.
$9.99
Wire Belt Clip for AS-1800R body pack receiver.
This product has not been rated yet.
Reviews
This item has not been rated yet.
Suggested Products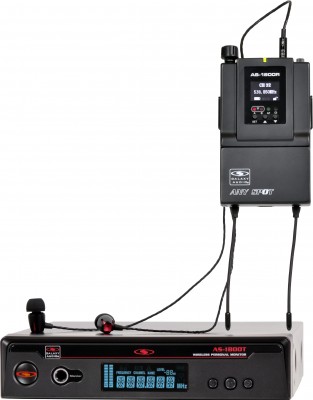 AS-1800 Up to 1280 Selectable Frequency Stereo Wireless Personal In-Ear Monitor with Mixed Mono
The Galaxy Audio AS-1800 is designed with features for the professional. This wireless personal in-ear monitor system comes in options of a Single system, Twin Pack system, and Band Pack system. The body pack receiver is set up for a king. With 150mW's of output to the ear buds, the AS-1800R is sure to be plenty loud for any environment. The receiver has a squelch adjustment, stereo/mono switch, LCD display, button lock, and Magnesium Alloy Construction. Galaxy Audio's comfort EB4 premium ear buds feature titanium drivers, extended bass response, aluminum alloy construction, and now come standard with all WPM models.
The Twin Pack and Band Pack Systems make it easy for any duo or band to Get Personal. The Twin Pack system includes two receivers and one transmitter. The Band Pack system includes four receivers and one transmitter. They are designed to get the duo or whole band wireless in one package. The Galaxy Audio AS-1800-2 and AS-1800-4 will allow a duo or band to send one stereo mix to 2 or 4 individuals. Additional transmitters may be purchased at a later date to add mixes.
An unlimited number of receivers may be added at any time.
See "Configurations" for ear bud upgrade system options.
Featuring Mixed Mono Mode
Backlit LCD (Displays Channel Number, Frequency, Name, Battery Level of Receiver, L/R AF Input, Stereo/Mono and Lock)
UHF Phase Locked Loop
Stereo or Mono Transmission
Multiple Receivers can be used with 1 Transmitter
Naming Function
30/100 mW Selectable Transmitter Output
Monitor Output
Single/Dual Rack Mount Kit Included
EB4 Ear Buds Included
300' Range
The Mixed Mono feature allows performers to adjust the balance of the Left and Right audio signals sent from the transmitter right on the body pack. With Mixed Mono:
The performers can have their vocals in Input 1 and the band mix in Input 2 and adjust the volume of each independently to create their own personal mix, or
You can send two different monitor mixes from the board so each performer can decide which mix they want to hear on their belt pack.
AS-1800T Transmitter
Easy to Read LCD
2-1/4" Line Outputs (unbalanced)
Volume Control
Two XLR/1/4" Combo Inputs
Naming Function
30/100 mW Selectable Transmitter Output
Monitor Output
AS-1800R Receiver
True Diversity
Magnesium Alloy Construction
45 Hz -18 kHz
Mixed Mono Mode
Frequency Display
Backlit LCD
Volume Control
Battery Level Indicator
150 mW Earphone Output
Button Lock
Squelch Adjustment
Volume Knob
Auto Mute
Stereo/Mono Switch
Dimensions: 4.25" x 2.59" x .86" (108 x 66 x 22 mm)(HxWxD)
*Varies by frequency code
---
"I absolutely LOVE my Galaxy Audio in-ear monitoring system! It is loud, crystal clear, and I couldn't be happier with it...thanks, Galaxy"
-Micky Dolenz
"In the past, I've tried out in-ear monitors made by other companies and didn't like using them at all. But my Galaxy in-ear monitor system is awesome...what a great experience it is using it every show! I can hear my vocals, drums, keys, guitars, and bass all crystal clear and with no distortion. My EB10 ear buds are comfortable, they fit great, and I really appreciated how they came stock with a variety of rubber tips to properly fit ear canals of all sizes. In live music situations, I can hear everything so clear now...I love using this system!! Thanks, Galaxy!"
-Carmine Appice
"For years I've had to use big, loud monitors live. Now with my Galaxy Audio in-ear AS-1800 system, I can get the same power, clarity, and punch...all without having to use monitors that take up half of my drum riser. This system ROCKS!"
-Vinny Appice
"I'm here today to say that I'm loving my new Galaxy Audio AS-1800 Wireless Personal Monitor Band Pack System. I'm using for the time being to rehearse in my studio! And I can't wait to take this on the road!

It's Built like a tank and sounds fantastic! Check it out!"
-Mike Kerr
More Details