Meet Rubén Valtierra
Rubén Valtierra has been the Keyboard Director for Weird Al Yankovic since 1991. He says, "After years of wishing for a small powered speaker for my small private gigs and rehearsals, my dreams have been answered a hundredfold. The Galaxy PA6S is simply the best small monitoring system that I have ever heard that is on the market today. I am able to play 6-7 Full piano chords, organ and synth leads at sustained high levels without ANY distortion, yet maintaining a brilliant clarity that fills rooms much larger than I thought capable of."
More About Rubén Valtierra

Valtierra began classical studies at the age of 10. After playing in his high school orchestra, he attended the University of California at Santa Cruz (UCSC) and later was a member of the award-winning Cabrillo College Big Band. Upon graduation from UCSC in 1979, Valtierra led the popular Santa Cruz jazz/funk fusion group, Rush Hour, until moving to Los Angeles where he quickly was playing, recording and traveling the world with members of groups such as Santana, Aretha Franklin, Tom Jones, Natalie Cole, Tower of Power, Chick Corea, Elton John and Red Hot Chili Peppers.

After world tours with rock legend Glenn Hughes of Deep Purple and Blues icon Charlie Musselwhite, Valtierra found himself touring and recording with Yankovic. When not touring, Valtierra is active in the studio, writing and producing, along with leading his Latin Orchestra (VLO).
Official Website
---
Band Members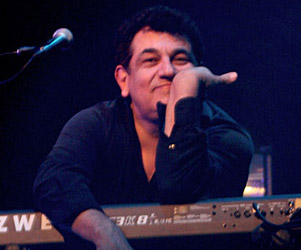 Rubén Valtierra
Musician / Producer
---
---